Unleash Productivity with Office 2016 Pro Plus Online: Your Gateway to Seamless Workflows and Effortless Collaboration
In the bustling digital landscape of 2023, businesses demand tools that transcend mere functionality. They need software that not only simplifies tasks but also revolutionizes workflows. Introducing Office 2016 Pro Plus Online, a powerhouse from Microsoft meticulously crafted to redefine how work gets done. With its comprehensive suite of applications, cloud-enabled convenience, and advanced features, Office 2016 Pro Plus Online stands as the epitome of productivity in the modern era. Let's explore how this suite can transform your business and elevate your productivity to unparalleled heights.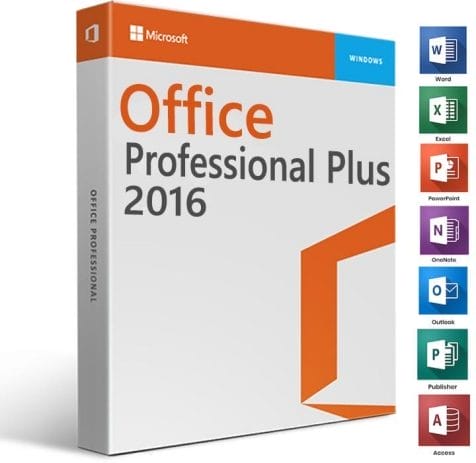 Unmatched Performance and Speed: Office 2016 Pro Plus Online is engineered for efficiency. Experience instant application launches and rapid document loading times, ensuring you can dive into your tasks without delay. Whether you're crunching numbers in Excel, designing captivating presentations in PowerPoint, or collaborating on documents in Word, the seamless performance of this suite allows you to focus on what matters most – your work.
Comprehensive Suite of Applications: This suite boasts a diverse array of applications tailored to meet the demands of a dynamic business environment. Excel, the industry-standard spreadsheet tool, empowers you to analyze data and make informed decisions. PowerPoint facilitates the creation of visually stunning presentations that leave a lasting impact, while Word streamlines document creation and collaboration with its intuitive interface and advanced editing capabilities.
Seamless Online Collaboration: Collaboration knows no boundaries with Office 2016 Pro Plus Online. Integrated with cloud services, this suite enables real-time collaboration and document sharing from any location. Co-author documents, comment in real-time, and foster creativity within your team, enhancing productivity and driving innovation. Experience the power of collaboration without constraints, ensuring your team can work together seamlessly, whether they're in the same office or scattered across the globe.
Advanced Security and Data Protection: In the age of digital threats, security is paramount. Office 2016 Pro Plus Online incorporates robust security features, including encryption, data loss prevention, and multi-factor authentication, safeguarding your sensitive data from unauthorized access and cyber-attacks. Rest easy, knowing that your documents and communications are shielded by the latest in security technology, preserving your business's integrity and reputation.
SEO Optimization and Enhanced Online Visibility: In the digital arena, visibility is synonymous with success. Office 2016 Pro Plus Online not only boosts your productivity but also enhances your online visibility. Its user-friendly interface and responsive design contribute to an outstanding user experience, factors that search engines prioritize when ranking websites. By integrating these tools into your workflow, you're not just enhancing productivity; you're increasing your online presence, attracting organic traffic to your website, and positioning your business at the forefront of your industry.
Dedicated Support and Continuous Enhancements: When you choose Office 2016 Pro Plus Online, you gain access to Microsoft's dedicated support team, available 24/7 to assist you with any inquiries or challenges you may face. Moreover, Microsoft's commitment to excellence means regular updates that keep your software at the forefront of technology.
By staying current, you're always equipped with the latest features and security enhancements, ensuring your business operates on the cutting edge of innovation.
In conclusion, Office 2016 Pro Plus Online is not just software; it's a strategic investment in your business's success. Its unparalleled performance, diverse applications, seamless collaboration capabilities, advanced security features, and SEO optimization make it the ultimate choice for businesses aiming to excel in the digital landscape.
Empower your team, enhance your productivity, and embrace a future where work knows no boundaries. Upgrade to Office 2016 Pro Plus Online and revolutionize your business operations. Stay ahead, stay productive, and achieve more with this powerful, cloud-enabled productivity solution.