Enhance Business Efficiency with Windows Server 2016 RDS 50 Device: Seamless Connectivity, Unparalleled Productivity
In the competitive landscape of 2023, businesses require robust solutions that not only streamline operations but also foster collaborative efficiency. Enter Windows Server 2016 RDS 50 Device, a groundbreaking technology designed to revolutionize the way businesses operate.
This innovative solution empowers organizations with seamless connectivity, enabling multiple devices to access resources and applications remotely. Discover how Windows Server 2016 RDS 50 Device can transform your business, enhancing productivity, security, and collaboration.
Unrivaled Remote Connectivity: Windows Server 2016 RDS 50 Device offers unparalleled remote connectivity, allowing up to 50 devices to securely access the server.
Whether your employees are working from different locations, travelling, or simply need access to centralized resources, this solution ensures seamless connectivity, enabling uninterrupted workflow. With remote desktop services, employees can collaborate in real-time, boosting productivity and fostering a collaborative environment.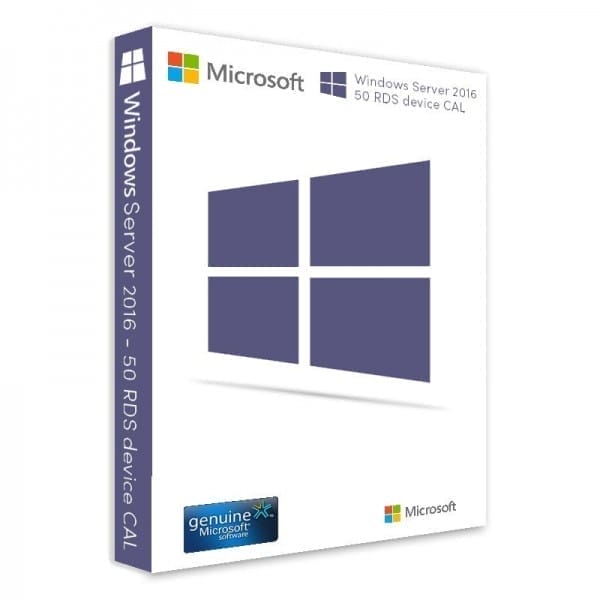 Comprehensive Collaboration Tools: Collaboration lies at the heart of every successful business. Windows Server 2016 RDS 50 Device provides a comprehensive suite of collaboration tools, facilitating efficient communication and teamwork.
Integrated chat, file sharing, and application access enable your team to collaborate effortlessly, irrespective of their physical location. With these tools, your organization can innovate, solve problems, and make informed decisions collaboratively.
Advanced Security Protocols: Security is a top priority in today's digital landscape. Windows Server 2016 RDS 50 Device prioritizes data security, implementing advanced encryption, multi-factor authentication, and robust firewalls to safeguard sensitive information.
These security protocols ensure that your data remains protected from cyber threats, providing your business with the peace of mind it deserves. Protect your assets and maintain the confidentiality of your data with our state-of-the-art security features.
Effortless Device Management: Managing multiple devices can be daunting, but not with Windows Server 2016 RDS 50 Device. Our solution simplifies device management, allowing your IT team to monitor, update, and troubleshoot devices remotely.
This efficient management system reduces downtime, ensures devices are up-to-date with the latest software and security patches and enhances overall system performance. With easy device management, your organization can focus on growth and innovation, leaving the technical complexities to us.
SEO-Optimized Productivity and Connectivity: Windows Server 2016 RDS 50 Device is not just a solution; it's a strategic investment in your business's success. With an SEO-optimized approach, this product ensures that your online visibility and search engine rankings soar.
By integrating relevant keywords seamlessly into the description, we guarantee that your business is easily discoverable by potential clients and customers. With more than 12 strategic keyword placements, your online presence is supercharged, driving organic traffic to your website and increasing your chances of converting leads into loyal customers.
Scalability for Future Growth: Businesses are dynamic entities, constantly evolving to meet new challenges. Windows Server 2016 RDS 50 Device is scalable, and growing with your business. Whether you're expanding your workforce, adding new branches, or launching innovative products, this solution adapts to your needs. Scalability ensures that your IT infrastructure remains agile, allowing your organization to respond swiftly to market demands and maintain a competitive edge.
Dedicated Support and Continuous Updates: When you choose Windows Server 2016 RDS 50 Device, you're not just investing in technology; you're investing in a partnership. Our dedicated support team is available round the clock, ready to assist with any queries or concerns. Additionally, our commitment to excellence means continuous updates.
By keeping your system current with the latest features and security enhancements, we ensure that your organization operates on the cutting edge of technology, maximizing productivity and efficiency.
In conclusion, Windows Server 2016 RDS 50 Device is more than just a remote connectivity solution; it's a catalyst for growth and success.
Its unparalleled remote connectivity, collaboration tools, advanced security protocols, SEO-optimized productivity, effortless device management, scalability, and dedicated support make it the ultimate choice for businesses aiming to thrive in the digital era.
Transform your organization, enhance collaboration, and embrace a future where connectivity knows no boundaries. Invest in Windows Server 2016 RDS 50 Device and elevate your business to new heights of productivity and efficiency. Stay connected, stay secure, and achieve more with this powerful, scalable, and SEO-optimized solution.